Trading house
Communication Engineering
One of the leading system integrators, equipment supplier, developer and designer of digital TV and broadcasting networks.

TD Communication Engineering
Specializes in the supply of telecommunications equipment that supports any modern standards.

Trading house
Communication Engineering
Broadcast television transmitters from leading manufacturers, as well as additional equipment for radio and television broadcasting centers.
TD Telecommunications Engineering LLC provides a full range of broadcasting solutions based on hardware and software from various global manufacturers.
You can contact us by phone number +7 (495) 617 72 27 or use the feedback form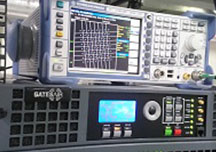 Gates Air Inc. The United States, a leading developer and manufacturer of transmitting televis...